Distance today: 30.3km
Distance total: 2567.0km
Time hiked: 9h 54min
Time total: 780h 44min
Bryan picks us (I guessed right ;) at 8:30 and drops us an hour later at the trail head. 
Jasmine apparently still needs to sort out a few things, so I start hiking - positive that she will catch me sooner or later with here lightweight pack. It's a stunningly sunny, hot day. A pleasure after this wet and cold weather yesterday.
I follow a rough 4WD track up towards a saddle. It's a continuous 600 meter climb. Never really steep but somehow I just don't get into gear. Maybe it's the heat. Progress is slow and I need several micro breaks until I finally reach the saddle. From here it's mostly down past A-Frame hut to Comyns Hut, where I arrive at 2:30 - too early to call it a day, considering I only started 5 hours ago and the weather tomorrow is not gonna be as good as today. The next hut is 7 kilometer away - probably out of reach. But why staying in a hut? Looking at the map, it seems there are plenty of okay camp spots in-between. 
So I continue and follow up a stream. There's no marked track. Walking in the riverbed. Find your own way. Just some poles now and then to make sure you are following the river. I'm in a good flow, constantly looking for the quickest way, crossing the river dozens of times. The further upstream I get, the wider the valley and the easier the going. Until I leave the river 2 hours later to climb up Clent Saddle. Hiking through thick Tussock is literally a pain - it feels like walking through a minefield. The mines being hidden rocks, invisible small streams and holes and worst of all the Speargrass aka Golden Spaniard. A spicky, evil plant. But also Tussock lying on the ground is tricky to walk on. Super slippery! Jasmine seems to cope better with terrain and passes me shortly prior reaching Clent Saddle.
I'm relieved when I finally reach the saddle and spot some massive scree fields that need to be crossed. They unfortunately end way too soon and it's back into Tussock again. Slow progress and mentally challenging as yiu never now what's hidden below the Tussock.
Far below I spot a nice green flat. Looks perfect for camping. Hopefully the area is not damp as I don't feel like continue much further. It's already past 7 and my legs really tired from hiking through that grass.
50 meter before reaching the previously spotted flat, I step into a hidden, knee deep mud hole. Shit! 
Luckily, at least the flat is dry and perfectly suitable to pitch my tent.
That mud hole really finished me off and it would have been very annoying to continue any further. 
After calming down and pitching my tent I finally have time to sit down on the soft (real!) grass and enjoy the nice views and a great sunset.
A pleasable way to end my 100th day on the trail!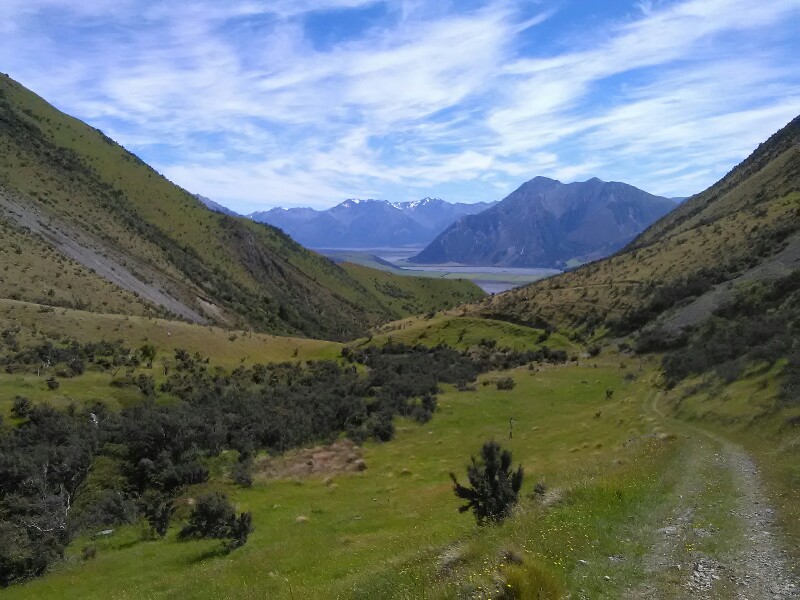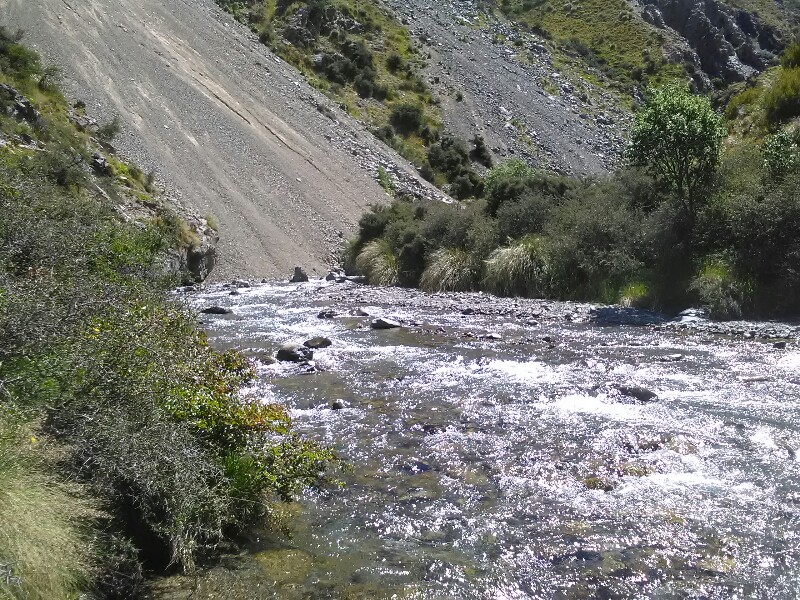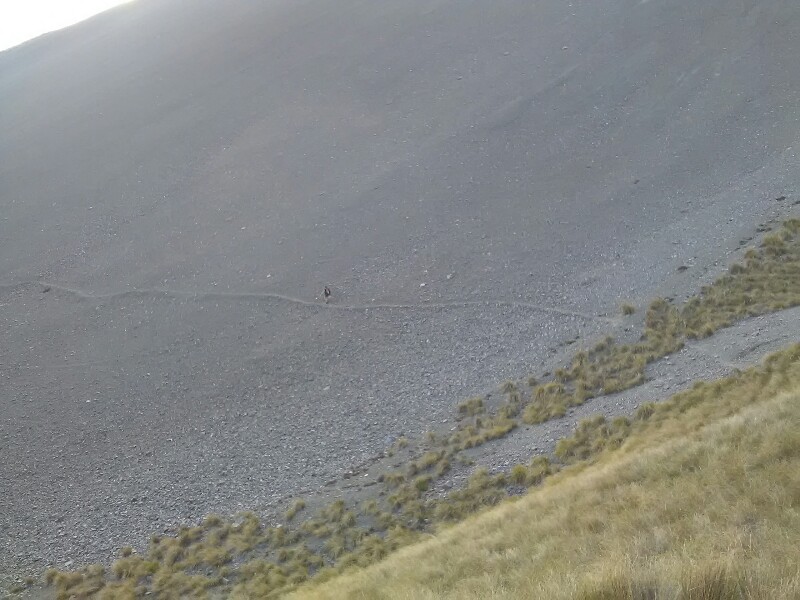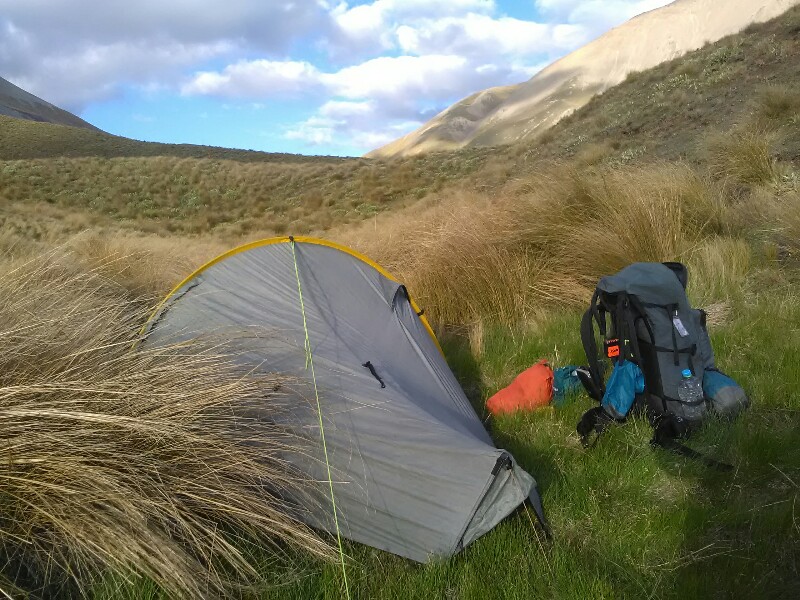 ---