Distance today: 15.4km
Distance total: 2389.1km
Time hiked: 5h 30min
Time total: 723h 07min
The front arrived overnight. When I wake up around 5 it's pouring down. An hour late: Still the same. A Kiwi, who stayed at the hut as well, leaves but returns a few minutes later. Maybe one of the rivers downstream is unfordable (he's heading the opposite direction).
7 o'clock, the rain stops, the Kiwi leaves again and there are even a few sunrays. Is the weather already getting better? Uhm no. By 8:30, the rain comes back again. Non-stop, torrential rain. I get a bit worried: So much precipitation - it will take so time for the river levels to normalize. 
8 days worth of food are still in my pack. Under normal circumstances, this would be plenty to make it to Arthurs Pass. 3 days to Aickens and 2 days over Goat Pass. What should I do if I get stuck on this track for a few days? Should most likely be no problem to make it to Aickens. If I will ran low on food, the plan would be to hitchhike into Greymouth for a resupply. But that's still so far ahead. Let's see what the weather is doing today.
Rain turns into drizzle around noon. A promising sign. And sure enough: shortly afterwards, the precipitation stops completely. 
As I read all the magazines, I leave the hut and head upstream. There are no major rivers to cross, so I'm optimistic I will reach Nr 3 Hut. Otherwise I always have the option to turn back.
Surprisingly though, the rivers seem to be fairly unaffected by the recent heavy rain. Nothing more than a bit brownish. 
One river is a bit different. Not because it's flooded, but because it's warm! An unmistakable sign that I've reached the hot spring, I was looking forward to since Blue Lake Hut, when the "super-tramper" told me about them (I actually thought I missed them, as I was expecting them much earlier).
A quick climb up takes me to the hot pool. 30 seconds later I'm already in the pool. No comparison to an Onsen. Leaves and mud in, and hundreds of sandflies around the pool. Not exactly 5-star ;)
But hey: it's so relaxing anyway. Out here in the middle of nowhere. Probably no human being around within 20 kilometer. 
I'm getting dressed twice as fast as it took me to get undressed. The sandflies...
You probably all know the feeling: after spending some relaxing time in hot water, your body doesn't feel like doing any kind of physical activity. However, that's exactly what I have to do. Continue hiking on a rather rough track.
I ignore Hurunui Hut and continue for another hour to Camerons Hut. Fairly unspectacular hike with one exception: a walkwire over Cameron Stream. Knowing what's it gonna look like, I'm not particularly looking forward. Without all the recent rain, one could probably ford the river, today however, the walkwire seems to be the safer option. My hiking poles safely stowed, I proceed slowly over the wobbly bridge. Just don't slip... I don't slip.
Some action nevertheless before reaching the hut. Old, small, lots of holes in the roof. Exactly how I like then. I just hope there won't be any rain tonight ;)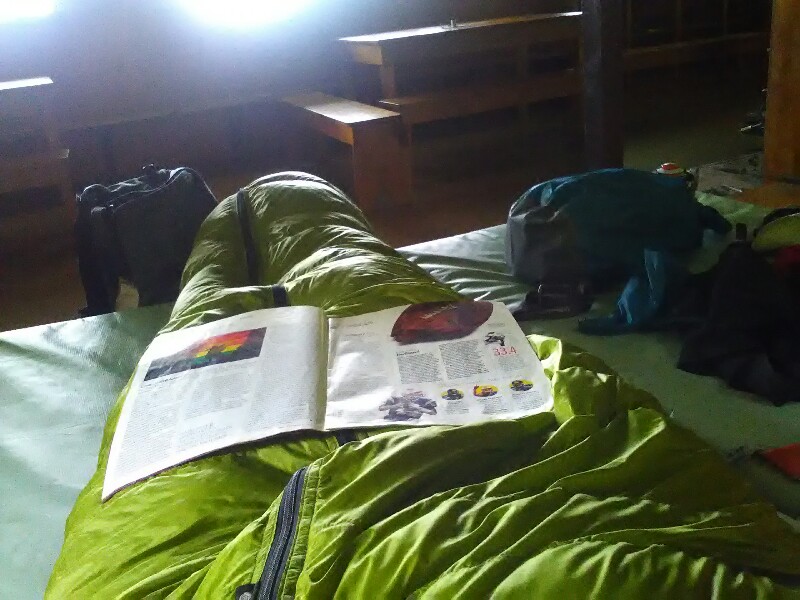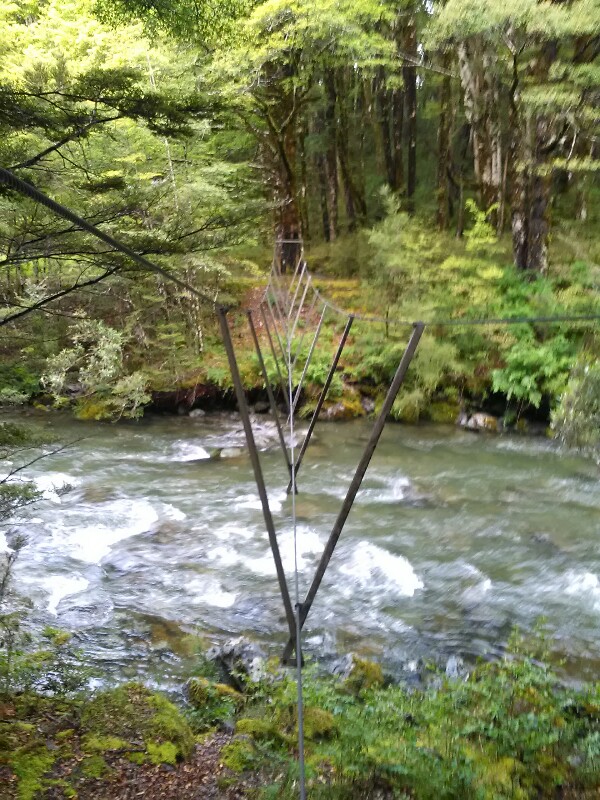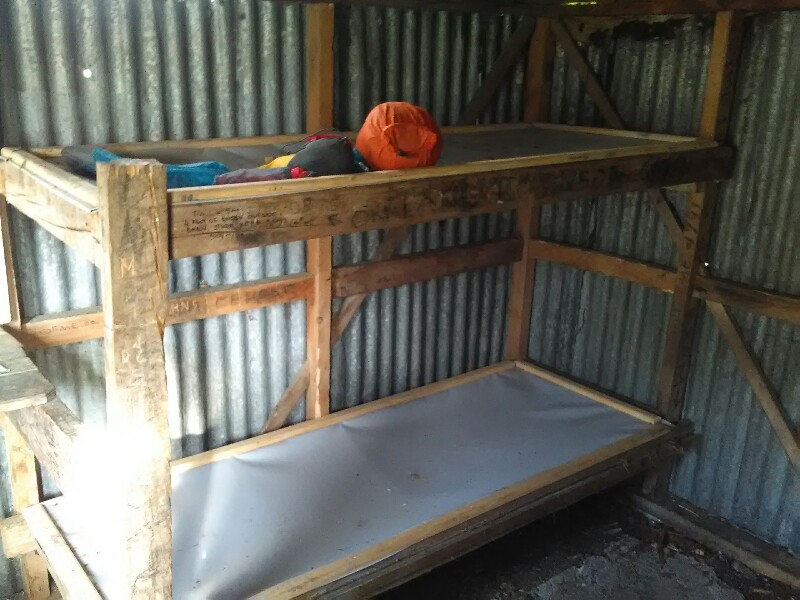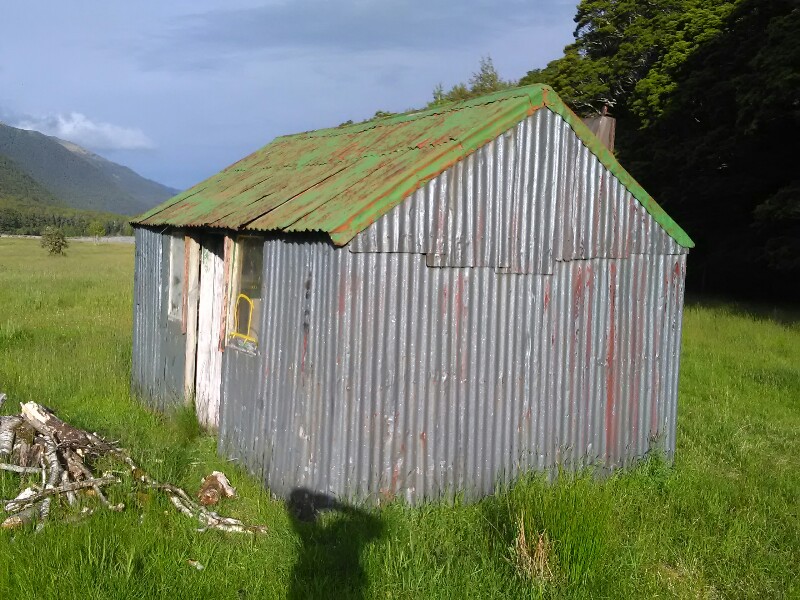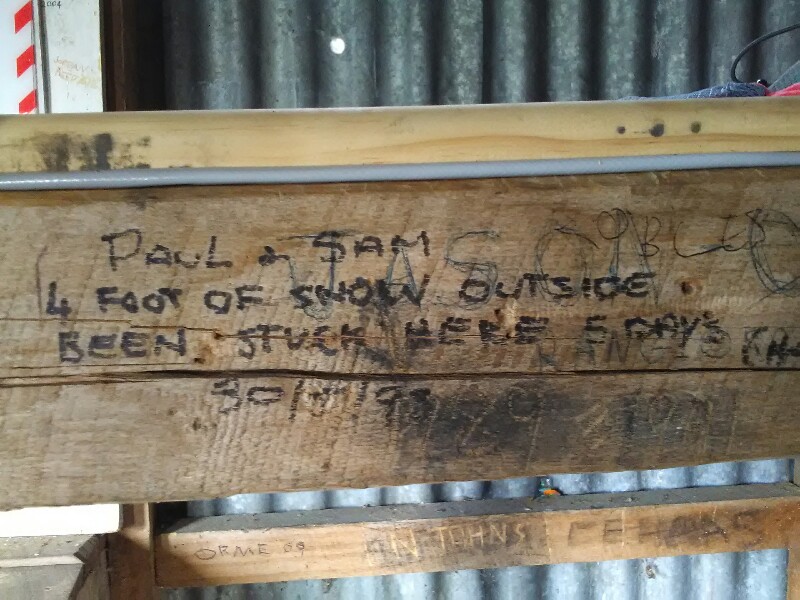 ---