Distance today: 34km
Distance total: 993.7km 
Time hiked: 11h 01min
Time total: 290h 14min
It's a stormy night. And a stormy morning. No rain however, when I do my first steps on the fantastic boardwalk towards Hihikiwi lookout, which unfortunately has no views at all. From there it's a 300 meters "descent" to the road. It starts quite easily but it's getting muddier with every step. First ankle deep, then knee deep. It's raining heavily and the trail turns into a small stream.
It's probably as tricky as Raetea but as I got used to it and thanks to the Injinjis and some duct tape, it's okay to hike. Only the roots make it tricky.
It's not the roots that bug me the most. It's the trail that is a continuous up and down. 2 hours into the 4 hour descent, I'm still at 900 meters - the elevation of the hut. Why can't the trail gradually descend? Really frustrating.
After a final, steep descent (of course), I reach the road. Covered in mud, I wash myself quickly in a nearby river before continuing the next nearly 20km on the road. It's extremely windy on the exposed ridges, the rain hammering horizontally in my face. Even though I wear all my four layers, I still feel cold and miserable. 
But there's nothing else to do than to carry on and looking forward for the moment when I can slip into my sleeping bag.
It's getting even windier but at least the rain stops now and then. Even some shy sunshine! A car is passing me and a few minutes later, I see the same yellow car parked on the shoulder. Two old ladies standing beside it.; Did it break down? No! They waited for me to give me a lift. How nice of them! My goal however, is to walk the trail so I kindly decline. They don't give up yet and try to convince me. "It's so far!". Sorry ladies, I hate to say no, but I want to hike it.
Once off the road it's a nice flat trail (muddy of course) through a forest followed by walking along paddocks before entering yet another gravel road. Time is running. Already 5 o'clock. Let's find a good camping spot. 
It's not that easy actually. Walking on this gravel road you have paddocks left and right. Most grassy areas are flooded anyway (as were all the nice spots in the forest). So I continue on, pass a inviting barn. Should I? No, that would be really cheecky 
It's half past five when I, more or less by chance, discover a former TA-trail while looking for a spot (close by the sign "Omarama Scenic Reserve"). Hidden from the road, more and less flat and not flooded. Not perfect but okay for the night.
Overall, a day to forget. It's not the first day with crappy weather and it won't be the last. You just have to accept it. There's not much else you can do.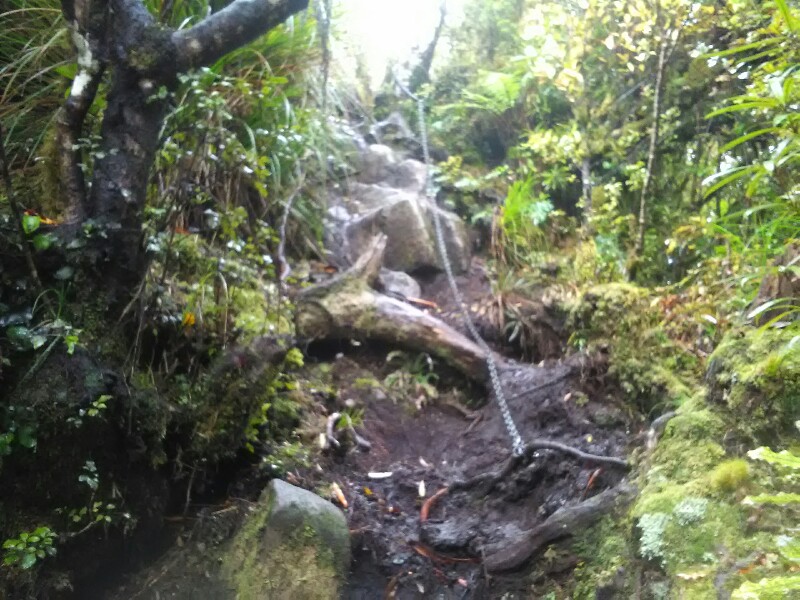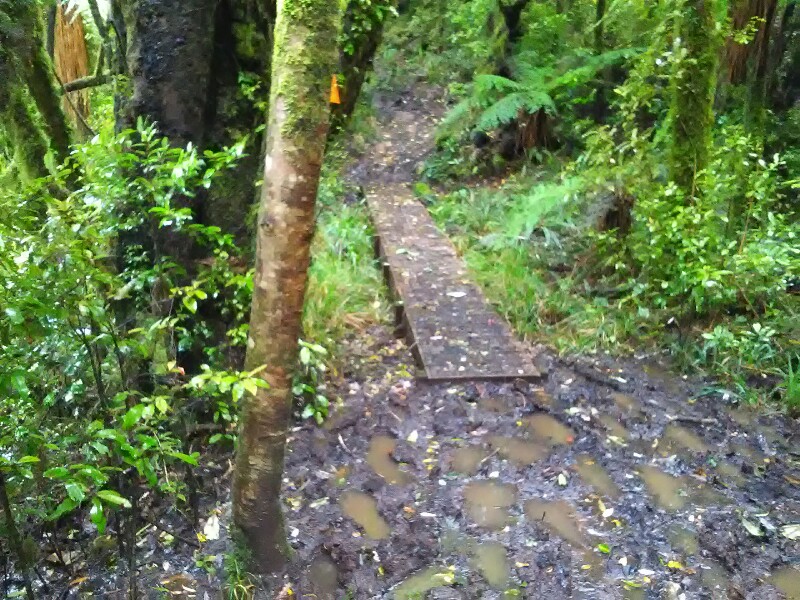 ---