Distance today: 33.1km (incl. 2.5km boat ride) 
Distance total: 479.3km
Time hiked: 7h 59min
Time total: 140h 14min
Yesterday evening I rang Peter, a local from Reotahi Bay, and asked if he could give me a lift across Whangarei Harbour to Marsden Point. He immediately agreed and we scheduled the ride at 9.
It's a 1.5 hours hike along the coast to the bay, so I set off shortly after 7, but not before thanking my lovely hosts once more for their hospitality.
The weather forecast for today: rainfall starting early morning; occasional heavy showers/thunder. 
So I'm expecting the worst.
However, as I make my way along the coast - everything safely stowed in dry bags - I'm positively surprised that it's mostly sky clear! Well, weather can change really quickly here... I had to learn that the hard way ;)
Right on the hour, I meet Peter, a cool, adventurous guy. We spend quite some time talking about the time, when he was living and working in Switzerland.
He takes me across and I continue down south along the beach. Halfway down, there is a river crossing, which, according to the trail notes, should only be forded during low tide. As the tide is coming in quickly, I decide to play it safe and make the short detour through Ruakaka. 

It's only on the last few kilometers when the first raindrops finally hit my head. They are so few, that there's no need for the jacket. 
These last kilometers of road walk however, are really tiring. Everything is aching and I start to feel the weight of my backpack.
It's a relief when I finally enter Waipu, a small town. Somehow reminds me of a typical, boring, forgettable US town. But hey, they got everything I need. Grocery store, take away and a good spot behind a bar to set up my tent!
Unfortunately, the meteorologists were right with their forecast. Just the timing was a bit off. It's really pouring down currently! Luckily, with all the preparations for tomorrow are already done, there's no need to leave the cozy tent ;)
Tomorrow is gonna be a long day, mostly on roads to Mangawhai Heads. The day after will be beach walking again before I enter the muddy and technical challenging Omaha and Dome Forests. Not looking forward at all for these Northland "light" Forests...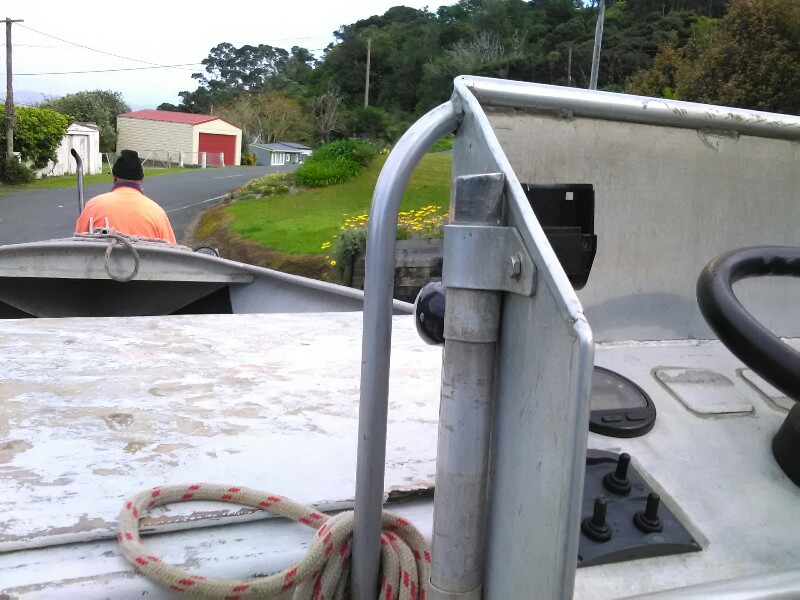 ---