Distance today: 44km (incl. 1.5km boat ride)
Distance total: 389.8km
Time hiked: 13h 33min
Time total: 113h 25min
Looong day today. Three trails, three towns and a little bit of road walk.
Track 1 is the one I pitched my tent on yesterday. 
It's an early start today and soon after setting off, I meet the German couple I saw 2 days earlier in Paihia. They had the same idea and pitched the tent on the trail as well. As they are busy getting ready, I just say hello and continue on the trail. Its motto: steep down, cross a few rivers, steep up again only to lead steep down again to meet with the road. It's hard work on the slippery, muddy, poorly maintained track. Some parts hardly walkable as it is so slippery. I guess even with proper hiking boots I'd be struggling. 
Then, already in the last descent, walking barefoot through the pastures, something stings or cuts my toe. Hurts as hell and I have to sit down a for a few moments. Not possible to continue. I check my feet but there's nothing to see and as the pain luckily eases as well, I carry on to the main road, through town nr 1, Whanakaki, and over the longest footbridge on the southern hemisphere.
Track 2 is a beautiful coastal walk on grassy trails and ends way to soon. It's another two hours road walking until I reach Matapouri shortly after 3.
After a well needed, extra large Ice Cream, I set off towards the last trail which takes me to Ngunguru. Hard work again, climbing in and out of all this muddy little valleys.
It's shortly before 7 when I want to cross the last stile leading to the road. These crossings are usually wooden, with metal wrapped around to make it grippier. And somehow this metal was connected to the electric fence, which I couldn't know of course. So when I, walking barefoot at this time, set my food on the stile I get a really painful electric shock. Again unable to move on I have to wait a little before being able to cross the fence. This with Lunas on ;)
Before entering Ngunguru I call James, who will take me across Ngunguru river to his cabins. On the way to the pier, I drop by a Takeaway and order 4-Dollar-Chips. And here in NZ that's a LOT of chips. They don't survive long however.
It's already dark when James picks me up and takes me over to his cool cabins. 
With James and the two other hikers from Paihia I spend a nice evening together at this cozy place, making plans for the next few days.
A long day comes to an end and despite some painful moments hiking went surprisingly smooth. 
Tomorrow will be an easy hike though, mostly on roads to Pataua.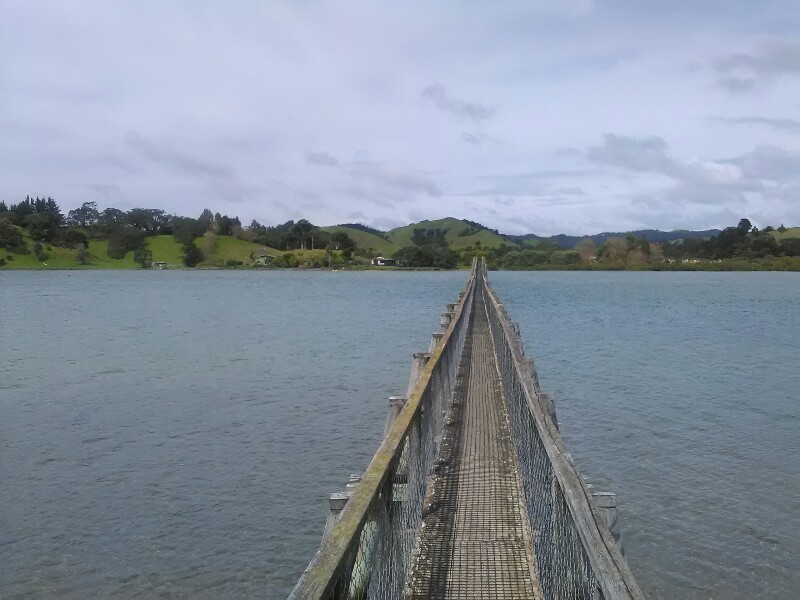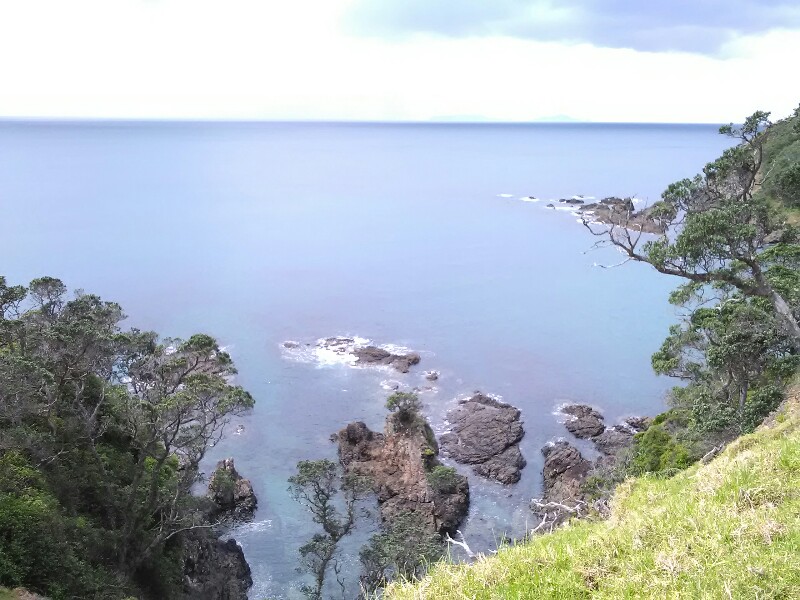 ---