Distance today: 28km
Distance total: 218.4km
Time hiked: 8h 25min
Time total: 65h 48min
The towering cumulus from yesterday towered some more but there was just a small shower passing through. So I expect condition for the river walk! Quite exited. But until I enter the river it's hiking once more on gravel roads before the trail steeply descends down into the fog and towards the river. Once in the river it's a great, mystic hike downstream. At some point a German passes by quickly. He's hiking from Ahipara to Kerikeri in 3 days (trail notes state 5 to 6 days). Respect! No need to rush for me. With the sun burning away the fog, I enjoy the walk in the cold water. Great treatment for me feet. After a few kilometers, the river merges with another stream. There's a track that follows parallel to this other river upstream. The track however is in really poor shape so I decide to continue wading in the water. Fighting against this wider and deeper stream is sometimes hard but no big deal. The water never comes higher than to my gentlemen's area. With the help of my GPS, I turn right into yet another small stream that takes me back to the TAT. It's a steep climb up to the ridge. The grip however is surprisingly good. A far cry from the other forests. I literally fly up this part. Walking gets a little rougher before the trail emerges onto a gravel road, which takes me all the way to Puketi, 9 kilometers away. Even though it's a gravel road hiking is not easy on my feet. So I'm more than happy to reach a nice camp in Puketi, with still enough sun around to dry my gear.
Well, I survived the Northland Forests :) Herekino, Raetea, Omahuta and Puketi. Dense, humid rain forests with it's impressive Kauri Trees. It was quite an experience!
All in sandals or barefoot. 
Especially the first two have shown their teeth and have taken their toll. I can't recall how many times I have asked myself the question why the hell am I doing this?! 
The stunning river hike on today's hike on the other hand was absolutely fantastic and rewarding.
Physically they weren't really challenging. It was the continuous up and down on these exceptionally muddy (for me at least) tracks. The limited grip and the sliding on the trail as well as in the sandal making it a hard walk for my feet. Two ugly open wounds on my toes will probably bother massively during the next days.
Proper hiking boots would have definitely be the better choice. Muddy conditions are, as expected, nothing for Lunas. But it was worth to give them a try and I will of course continue hiking in them, as I'm convinced they will do great on TAT.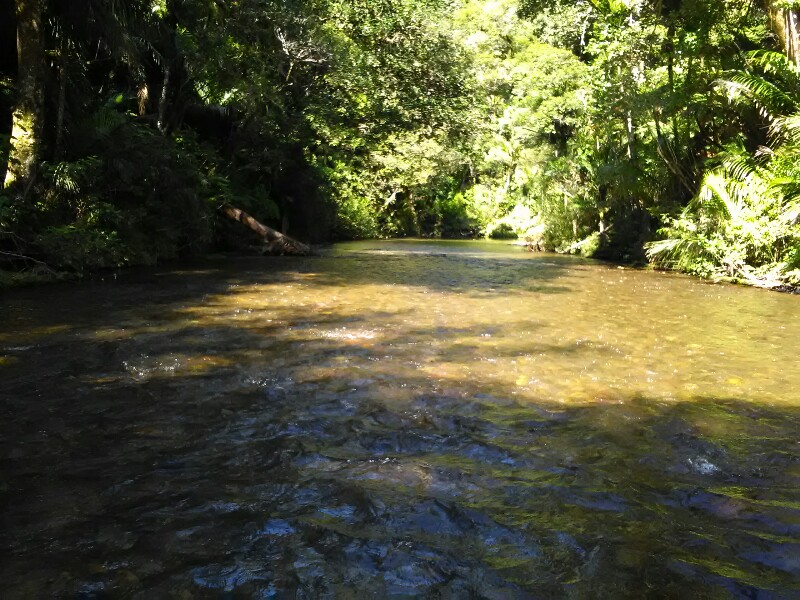 ---