Distance today: 13.2km
(according to my GPS, including all the small detours and might therefore be a little longer than the distances written in the trail notes)
Distance total: 13.2km
Time hiked: 3h 13min 
(including breaks)
Time total: 3h 13min
Early start this morning. Excitement  + jetlag = not much sleep ;) 
So with the first light I head out to a gas station to try my luck. Hoping to hitch a ride with someone heading for work. 
And really, after only 10 minutes, a friendly guy on his way to a chocolate factory takes me to Kerikeri. Thanks to 4 other rides, which I can hitch without too much waiting, my last "helper", a French girl, who is touring around NZ in her battered Toyota Carina, is dropping me off at Cape Reinga in the early afternoon.
I have never done hitchhiking before, and also had some safety concerns as I read from a (TA?) hiker the day before, who, as well on his way to Cape Reinga, put his backpack in the trunk of a car that stopped for him. Before getting into the car himself the driver however took-off, leaving the poor guy with nothing.
Luckily, nothing like this happens to me on my way up and it is a special experience: meeting nice people, having great conversation. So for example with Liz, who is heading to Te Kao for a job interview in. Her first interview in more than 10 years. So quite a special day for both of us! Liz lives in Ahipara, which is actually on the TAT (Te Araroa Trail), and with phone numbers exchanged, I will hopefully meet her for a coffee when passing through town.
But lets get back to Cape Reinga: After saying goodbye to Julie and her Toyata, I make my way down to the famous lighthouse, marking NZ's northernmost place and the starting point of TA. I saw so many photos of it and you can't imagine how happy I am, when I turn around a corner, and finally see the lighthouse with my own eyes! Even the light drizzle doesn't matter at this moment.
With two busses arriving just before me, the place is initially quite busy (one bus apparently left Paihia at the same time as me and the passengers saw my trying to hitch a ride three times ;). 
With the crowd gone and the weather improving, I have the place nearly for myself and enough time and space to make the "mandatory" photos before setting off. Setting off into a hopefully unforgettable, unique adventure.
The first few, very emotional steps of this adventure are taking me along steep cliffs down to the sea. From there it's a short but tricky rock hopping to the first beach. With steep rocks towering your left and high waves on the right makes me actually feel quite uncomfortable. Especially, after one wave takes me by surprise. With shorts and shirt soaked I continue the trail along a beach before crossing my first river on the track and heading up impressive dunes and sliding them down on the other side towards Twilight Beach. Always fun :) At the end of the beach, stairs lead up to a camp, which has great views. I decide to call it a day, pitch up the tent and filter some water for tomorrow.
What a day! So happy I'm finally on the trail, can't wait to hit it again tomorrow morning :)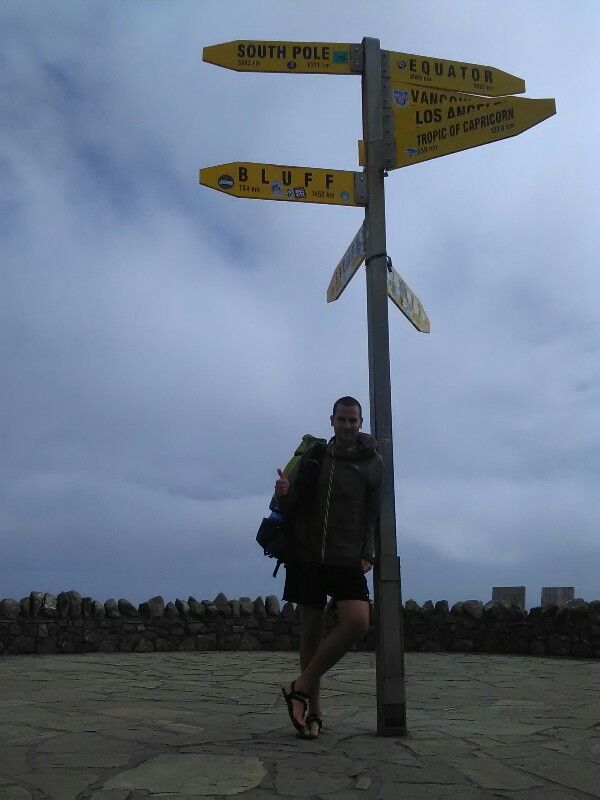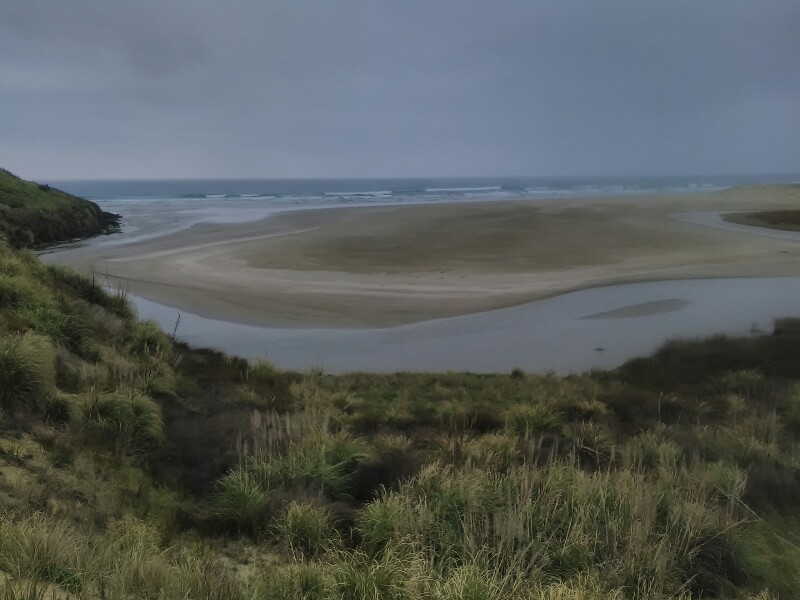 ---