Distance today: 33.1km
Distance total: 139.9km
Time hiked: 11h 25min
Time total: 38h 41min
Hitting the road at 7, it's initially a 8km walk along a winding, ascending, paved road towards the Herekino trail head. The trail is initially a very pleasant hike, climbing away from the road, slightly muddy but very well manageable with the sandals. Some barefoot hiking on the mossy trail is a nice change. 
However, the trail eventually gets muddier and steeper, slowing me down massively. Hiking this part, reminds me of the time when I was a kid, playing around in the forest right behind our house. Same now, just carrying a heavy backpack. As I need to use my hands from time to time, I notice a very distinctive smell of the forest. Hard to describe it but it has the smell a lot of old people have.
Hannah, a Finnish girl, who started with me in Ahipara today, is much faster and soon is out of sight. Progress is so slow it becomes obvious that I won't make it into Takehue today. With the trail getting flatter again, I push ahead and overtake Hannah. I reach the halfway marker of the trail shortly before 2 in the afternoon. According to the sign, 4 hours hiked (it actually took me 4.5 hours, so not that bad), and 4 hours still to hike. And to be honest: This second part is a pain in the ass. Muddy, slippery, steep. I slip and hit the soil so often, I stop counting. It seems to take forever and the heavy shower passing through isn't helping. The clock is ticking. Close to 5 still in the forest, climbing and sliding down a steep slope. The Lunas are totally useless  at this point. The mud takes away all the grip. So it's quite a relief when I finally exit the forest 8 hours after I entered it. Totally covered in mud, I try to find a river to wash my self at least a little,  before setting up the tent. So I carry on until I find a stream, running along the gravel road. That has to do ;)
Feeling surprisingly fit after the wash, I continue another 30 minutes until I find a good spot for my first stealth camp here in New Zealand.
To tell the truth, I'm really not looking forward for tomorrow. Again an 8km road walk before entering Raetea forest, which is apparently even more challenging. Well take it slow, step by step and hopefully I will make it through before sunset.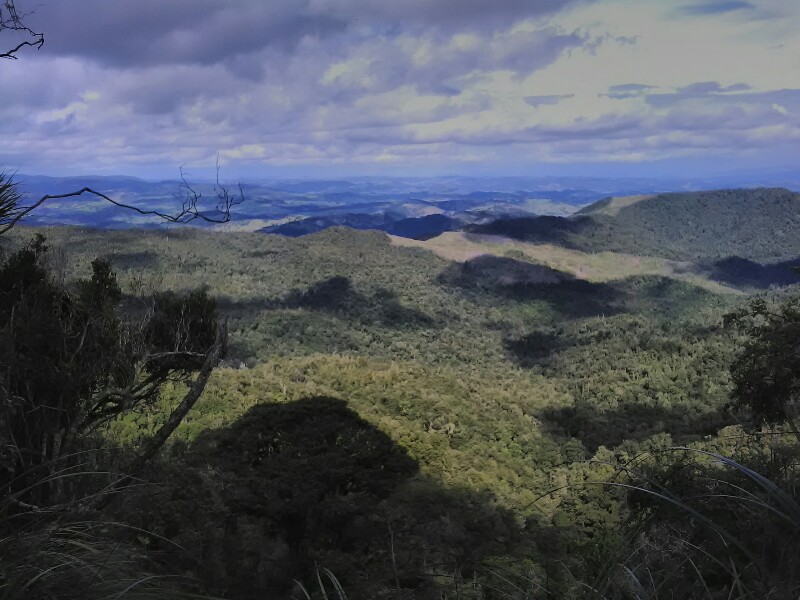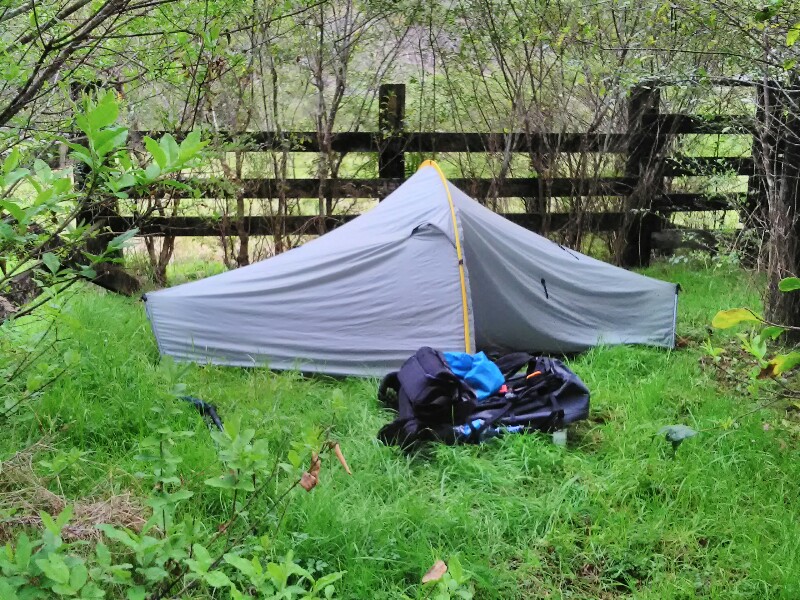 ---